The Queen's College Translation Exchange runs Creative Translation Ambassadors programmes for undergraduate and postgraduate students at Oxford. We train the selected students to design and lead their own creative translation workshops in local schools. As an Ambassador, you'll be part of the QTE family, meaning you can take part in our other projects, including our national translation prize for schools, blog writing, and book clubs.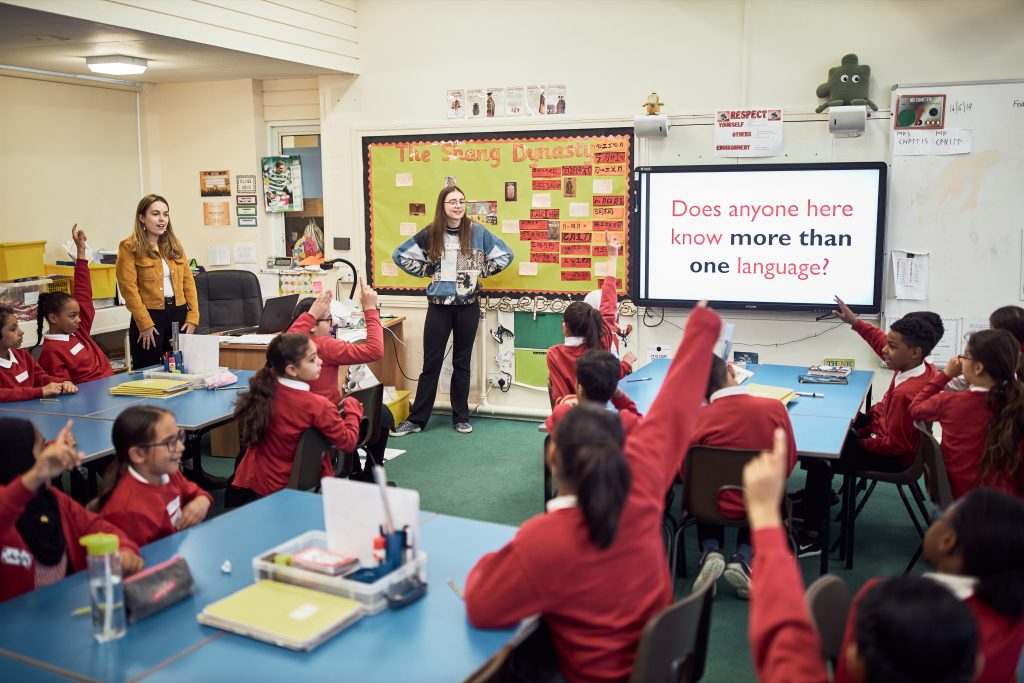 What is the Creative Translation Ambassadors programme?
The programme is open to all undergraduate and postgraduate students at Oxford. The only prerequisite is that you know at least one language other than English (no need to be fluent!) and that you love languages and are keen to share that with others.
Creative Translation Ambassadors deliver their own creative translation workshops in local state primary and secondary schools. Creative Translation is an inclusive approach to language learning that raises academic and professional aspiration for pupils of Modern Languages and provides the inspiring literary and cultural content that is limited in the current MFL curriculum.
Activities are accessible to students of all levels, and capitalise on pupils' diverse backgrounds and languages, with specific benefits for pupils who have English as an Additional Language. Creative Translation is a method that recognises multilingualism as a social justice issue.
Through the Creative Translation Ambassadors training programme, participating undergraduates and postgraduates develop and practise numerous professional skills, including presentation and public-speaking, teamwork, leadership and negotiation. It also connects the students to their local community and fuels a civic mission to support widening participation and language-learning.
Timeline 2023-24
The training for Creative Translation Ambassadors runs over 3 sessions (1 full day; 2 evening sessions).
Session 1 (Saturday 18th November 10am–5pm, at Queen's): Ambassadors learn the principles of creative translation in the classroom and are introduced to the creative translation workshop model.
Session 2 (A weekday evening in week commencing 27th November, at Queen's): Ambassadors present the initial plans for their workshop and receive feedback. The session will also cover discussing languages study and careers with school students.
Session 3 (A weekday evening in week commencing 15th January, at Queen's): This workshop focuses on classroom management and workshop delivery, so Ambassadors have everything they need to deliver their workshops in schools.
After the training is complete, Ambassadors deliver their workshop to a Key Stage 2 or 3 class in a school in Oxfordshire/surrounding areas. Workshops will take place from 4th week Hilary term. Travel expenses to and from the school will be reimbursed by QTE.
All Ambassadors commit to attending the three training sessions and delivering one workshop.
New for 2023-24! Sustained Intervention Programme
After five successful years of the Creative Translation Ambassadors programme, this year we are offering a 'Sustained Intervention' strand of the programme for the first time. In this strand, Ambassadors will build closer relationships with a partner school, delivering up to three workshops throughout the academic year. The first workshop will take place in 4th-5th week Hilary term, the second workshop at the end of Hilary term, and the third workshop in Trinity term. You can register your interest for the Sustained Intervention programme in the application form, and interested Ambassadors will also be able to apply following the first training session.
"I loved seeing how motivated the students were to engage in translation, especially when they had a heritage language they spoke at home – I found that really heart-warming and inspiring. I would really recommend the experience to anyone interested in outreach, languages, translation or teaching."

"I really enjoyed meeting other people in Oxford who were interested in translation and being part of an active community. I also really enjoyed the training that encouraged me to think critically about my translation practice and how that would apply to teaching."

"There are so many varied and great opportunities to get involved in things related to your love for languages whilst contributing towards promoting the value of learning languages."