Sport
Many of the sports facilities at Queen's have been updated and refurbished in recent years. Everyone can have a go at something if they wish. We are home to Oxford blues as well as those playing and participating for fun, exercise, and a break from study.
The level of participation in College sport is very high indeed with many undergraduates participating in several sports.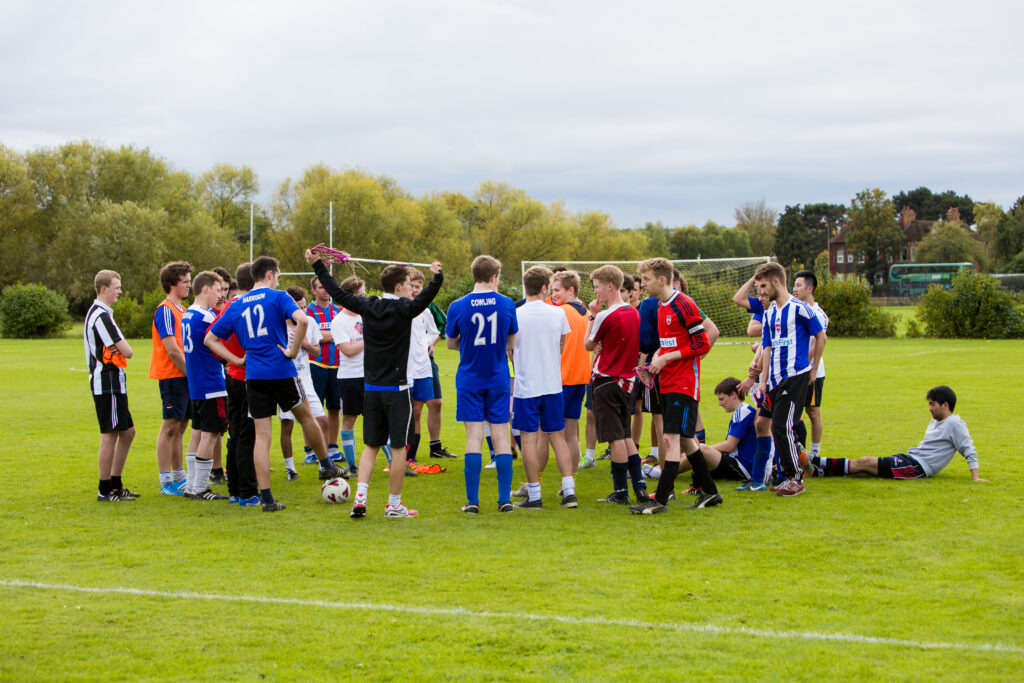 The Boathouse and Sports Ground
The boathouse, shared with Oriel and Lincoln Colleges, is a lively part of the College located on the banks of the Isis in Christ Church meadow. In its own clubroom, Queen's oarsmen and oarswomen are able to use the mini-gym as part of their training programme. The boathouse is particularly busy on those occasions during which many college crews compete against each other and crowds fill the towpath to support their own colleges.
Directly across the river from the boathouse is the College sports ground that consists of well-tended football pitches, tennis and netball courts, an excellent cricket square and a welcoming clubhouse that provides changing and showering facilities and a bar. This is where many College sports teams play and train. The annual summer sports day takes place here.
Squash and gymnasium
Two heated squash courts, said to be the best in Oxford, are located in the Cardo annexe on Iffley Road opposite the Oxford University rugby ground, swimming pool, gymnasium, and running track, which is famous for being the place where Roger Bannister ran the first four-minute mile.
Queen's is also one of the few colleges to have its own gym, which is in the Carrodus Quad annexe on Queen's Lane. The gym is free for any College member to use and includes rowing machines, exercise bikes and weights machines.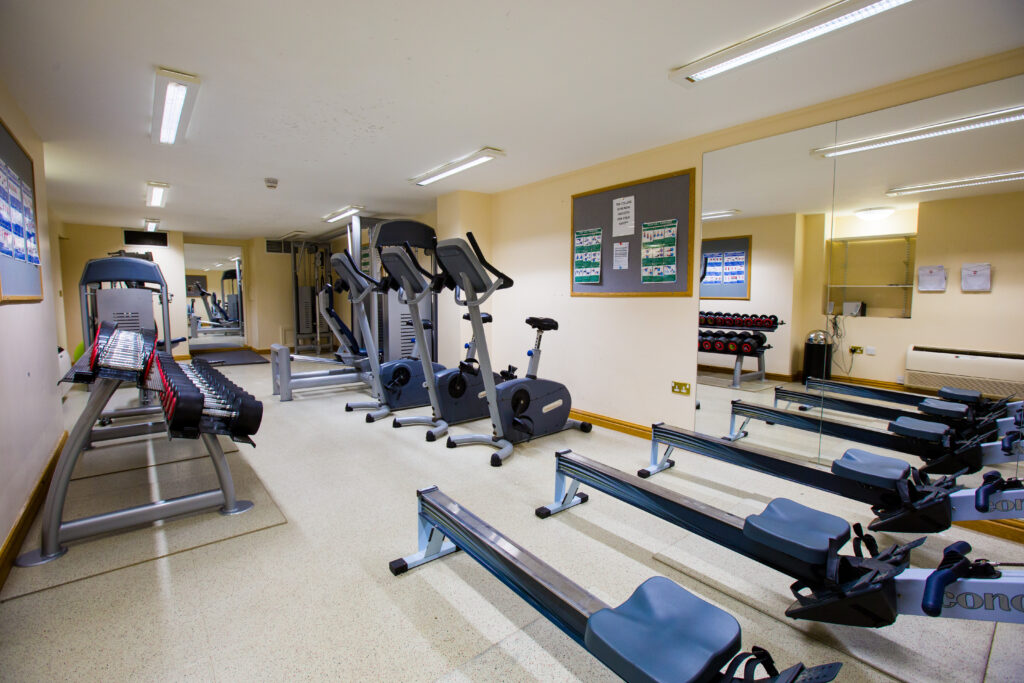 Sports Clubs
Queen's has its own rowing, football, rugby, cricket, hockey, athletics, tennis, squash, netball, badminton, basketball, lacrosse, cycling, and croquet clubs, many having a men's and a women's section. Sport at Queen's is run by the Amalgamated Clubs Committee that consists of an elected president and secretary, captains of sports, and a non-voting Senior Treasurer.
Facilities for many other sports are provided by the University, which also caters for particularly talented sportsmen and sportswomen in sports mainly pursued at college level.
Drama
There are more plays and musicals staged at Oxford than at any other University in the UK and the Queen's College is a significant contributor to Oxford's vibrant student drama scene. The College has its own drama society, known as the Eglesfield Players.
Named after the College's founder, Robert de Eglesfield, the society is a funding body that helps to finance productions throughout Oxford, with a particular focus on projects that involve Queen's students. The aim of the society is to make drama more accessible. It operates on a loan basis, providing funds for start-up costs of a production; then, once the production has made money from ticket sales, a percentage of their profit is paid back to the Players to be put back into Oxford drama.
The society also aims to help any drama enthusiasts get started in the thriving University theatre scene through the inter-collegiate 'Cuppers' competition. Each college enters a team of around 10 Freshers to put on a short 20-minute play in 5th Week of Michaelmas Term. The students involved have full responsibility for the writing, directing, acting, lighting, sound, and set of the production. In recent years, Queen's has done very well in this competition, including winning 'Best Direction' for their Cuppers performance in 2021.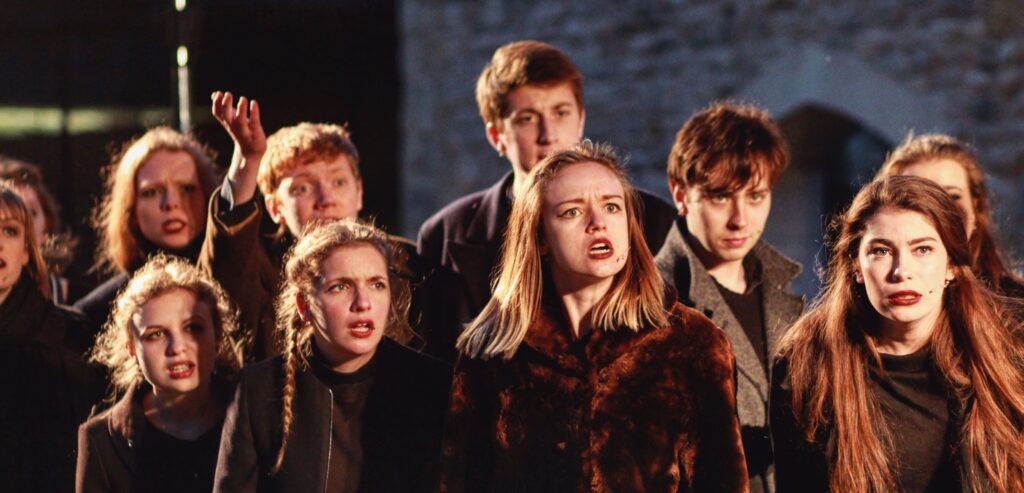 Music
Queen's is well known in and beyond Oxford for the quality and quantity of its musical activities.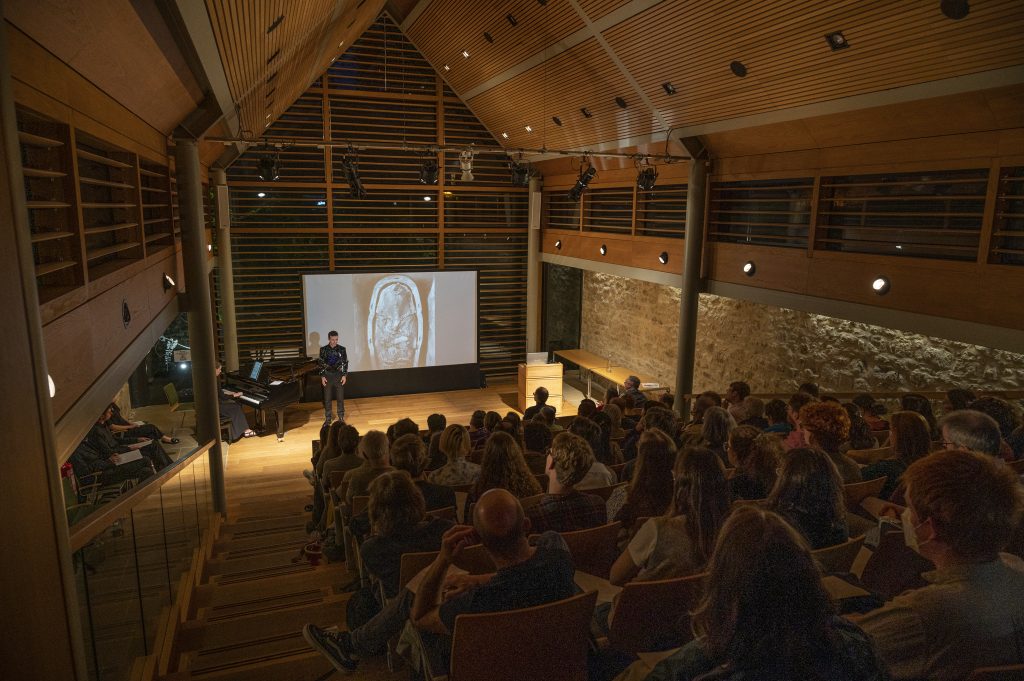 Excellent facilities for individual and group rehearsal are available in the two Music Practice Rooms. The practice room in Carrodus Quad is equipped with a grand piano and harpsichord, and the practice room in Back Quad in Main College has an upright piano and harpsichord, as well as a full drum kit. In addition to the renowned Frobenius organ, the Chapel contains a concert grand piano and a fine harpsichord and is acoustically one of the best chapels in Oxford for musical performance. The award-winning Shulman Auditorium houses a fine Steinway piano, and is frequently used for recitals, masterclasses, concerts, and instrumental and vocal teaching during term-time.
Eglesfield Musical Society (EMS)
Founded in 1842 by William Thomson (Fellow from 1840, Chaplain, Provost 1855-62, Archbishop of York 1863-90), the Eglesfield Musical Society is the oldest music society in Oxford and based at The Queen's College. The society runs around 60 events throughout the academic year, many of which are open to the public for free. The society's Saturday Recital Series runs every week during term time, welcoming a variety of excellent student and professional musicians to perform in the Chapel or the Shulman Auditorium. Additionally, the society runs an Organ Recital Series every Wednesday lunchtime throughout the academic year.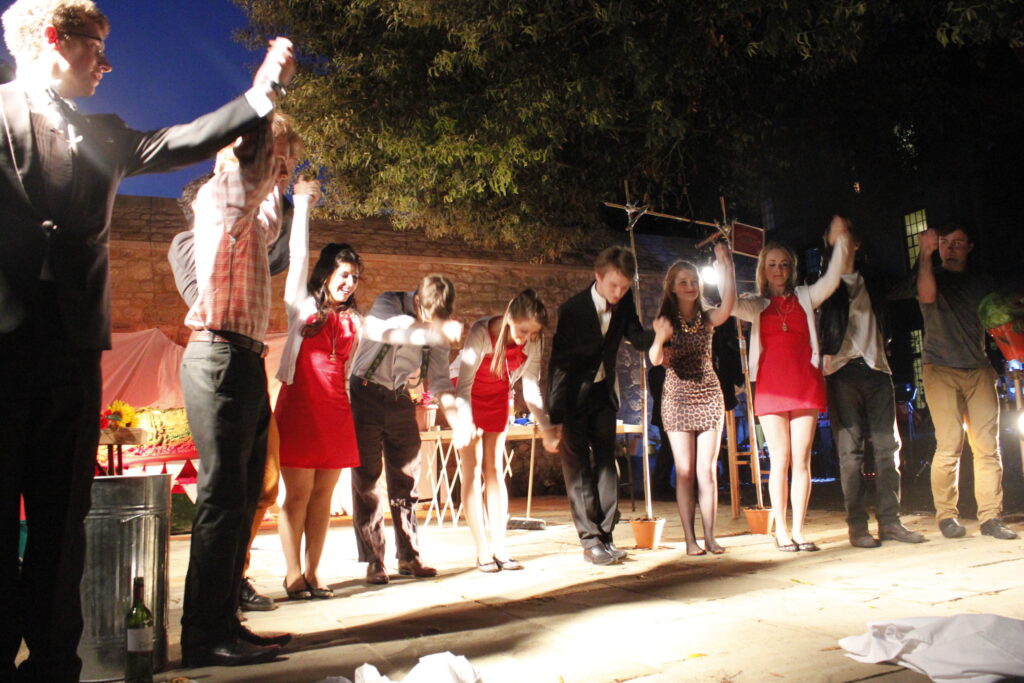 EMS runs a wide range of non-auditioned ensembles comprised almost exclusively of Queen's undergraduate and postgraduate students. The EMS orchestra rehearses weekly on Wednesdays in the Chapel, while the EMS A Capella group rehearses weekly on Thursdays in the same space. Both ensembles perform in the free termly EMS 7th Week concerts, along with soloists and small group performances from other Queen's students. If jamming and improvisation is more what you're looking for, EMS also runs 'Offkey', a fun, casual, jamming group that perform termly in 'Fifth Week Blues', the open-mic jazz night held in the Beer Cellar.
Musical theatre singers at Queen's can also perform in a termly cabaret concert organised by the society, as well as one of the EMS calendar highlights: the Trinity outdoor musical! The only production of its kind in Oxford, the society stages a fully-fledged musical production in the Fellows' Garden every summer, with Queen's students making up most of the cast and crew. Recent productions have included Little Shop of Horrors (2022), and The 25th Annual Putnam County Spelling Bee (2023).