Accessibility
The College endeavours to create an environment that is open to all. A number of accessibility measures have been introduced to improve access for visitors and members with disabilities. Recent building projects have been designed with accessible facilities and the College will continue to strive to improve accessibility where possible.
The Shulman Auditorium | Hall | Lower Library | New Library | Lecture Room B | Small Teaching Room | Front Quad | Back Quad | New Dining Room | Carrodus Quad | Late Gate | Bedroom | W/C
The following maps have been prepared to help those who wish to visit Queen's or use our services:
You can find the precise 3m x 3m location of entrances around the College using the what3words app or website. The exact locations of our entrances are:
For specific disability access information, or if you need wheelchair access, please contact the Lodge on 01865 279120 or email lodge@queens.ox.ac.uk.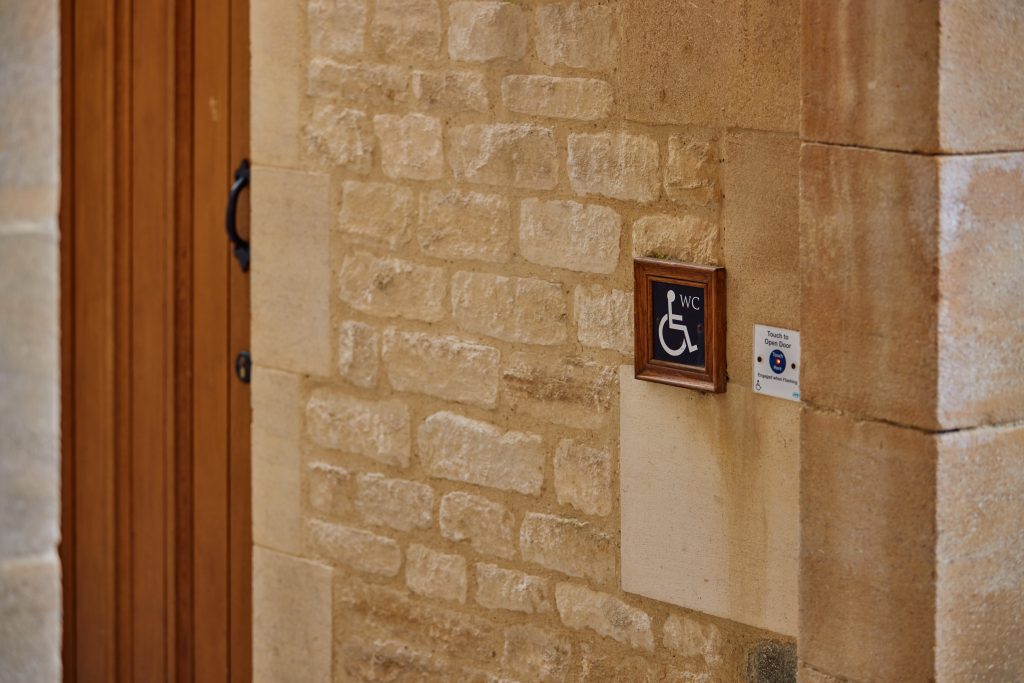 We welcome comments and feedback on any accessibility issue pertaining to the College. Please submit your comments by email, mail, telephone, or in person. The College looks forward to your feedback and will work to ensure that it is accessible to all of its visitors and members to the maximum extent possible.
Health
If you need medical attention, please use one of the following:
Ring the College Doctors at 19 Beaumont Street for a GP appointment – 01865 240501
Ring 111 for  medical advice
Go to A & E at the JR Hospital in an emergency (the Lodge can help call for a taxi)
Dial 999 in a dire emergency
Always inform the Lodge (01865 279120) if you need emergency assistance as they can assist you and inform (with your consent) the Decanal Team who lead on welfare, relevant tutors and staff members who will advise your family and friends of your whereabouts.
The College Doctors offer comprehensive primary medical care within the National Health Service. The doctors are independent of the College and cater for the full range of physical and mental health problems:
Dr Kenyon and Partners
19 Beaumont Street
Oxford OX1 2NA
Telephone – 01865 240501
The College Doctor Practice is open Monday – Friday from 08:00  to 18:00
More information about the Practice is available at www.19beaumontstreet.com.
In an emergency you should call the appropriate emergency service and inform the Porters Lodge (01865 279120) so that they can direct them when they arrive.
Welfare
Life as a student can be great fun, but it can also be tough at times, especially if living away from home for the first time. If problems do arise, a range of people in the College, the University, the National Health Service and the wider community are available to provide help or advice. The College's welfare activities are guided by the Welfare Statement. All students should familiarise themselves with the statement so that they are aware of the scope of support available within College.
There are particular challenges that you may face at university—leaving home, moving to a city or country you don't know, living in a large institution rather than a home, missing your friends or family, having to get on with people you might not have chosen to live with, adjusting to independent study and research, managing your own finances, and having to make decisions about everything from what to eat to how to prioritise your work. It is natural to find changes like these stressful or overwhelming.
All of us are best placed to do our academic work when we look after both our physical and mental wellbeing. There are certain choices that are generally helpful and increase our chances of being well: getting enough sleep, eating regularly and well, making sure we move about and get fresh air, taking breaks, practicing good self-care. Our health is important, and simple strategies like this can have a real impact on our wellbeing and, by extension, our academic work.
Even when you feel you are used to university life, there will be new challenges and transitions along the way, and while student life can be fun, it can also be tough at times. There are times when things can get too much, even with the healthiest of lifestyles, and we're here to support you when you need it. If you are struggling with something, it's always better to seek support and advice sooner rather than later. There is a wealth of support available from the College, the University, and beyond. No matter how small or large you think a problem is, we can point you in the right direction — all you have to do is ask.
Help within College
The Queen's College is committed to providing a setting within which every student can flourish and fulfil their potential.
University services
Visit the University's Welfare and Wellbeing webpages for a full list of the services and help available to you during your time at Oxford.
The University Counselling Service provides a wide range of services which are freely available to all students.