This exhibition celebrated the donation of an important collection of books and manuscripts related to Cumberland and Westmorland by Dr Douglas Bridgewater (1955).
This exhibition was held in the Upper Library during Trinity Term 2022, and curated by Felix Taylor, Library Assistant.
I was born a bibliophile and have collected books for over 70 years. I take pride in having also been born a Cumbrian (though I can claim no credit for it personally) and gradually built up a collection of some twelve-hundred volumes on all things Cumbrian. The founder of Queen's, Robert de Eglesfield, was himself a Cumbrian and I am delighted that my collection should have found a home in Queen's library.

– Dr. Douglas Bridgewater (1955) Old Member and donor of the collection
The College's links with the north of England can be traced back to its founder, Robert de Eglesfield, who belonged to a landowning family of Cumberland. As part of the College's constitution, Eglesfield stressed a preference for training clergymen who were 'natives of the counties of Cumberland and Westmorland, if they should be fit'. Strong links to the region continue today, most recently through The Access Project, which reaches out to disadvantaged young people in the North West of England
Some of the items displayed and their accompanying captions are reproduced below.
Greaves, grykes and gyotes
Westmoreland and Cumberland dialects. Dialogues, poems, songs, and ballads, by various writers, in the Westmoreland and Cumberland dialects, now first collected: with a copious glossary of words peculiar to those counties (England: J. R. Smith, 1839). Bridgewater 60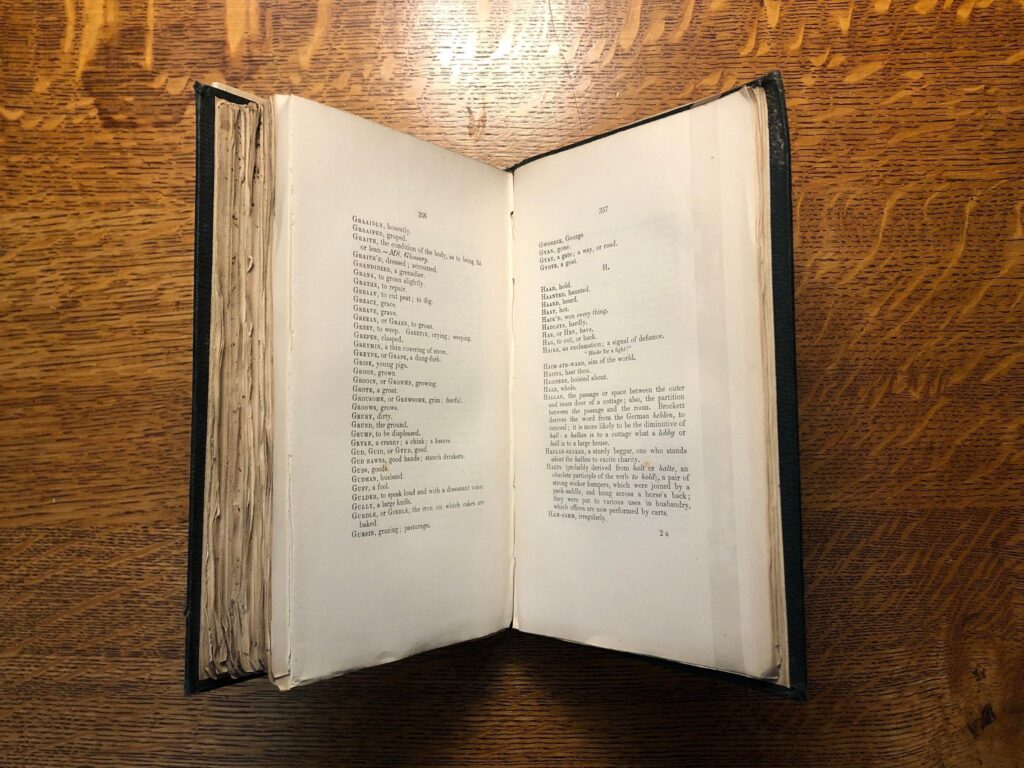 Cumberland and Westmorland, which came together in 1974 to form the modern-day county of Cumbria, boast a long tradition of song and poetry in their native dialects and shares much of their vocabulary with Scots. Influences range from Cumbric (a form of Brittonic related to Old Welsh) to Northumbrian Old English, and Old Norse.
Attempting to characterise each county's linguistic differences, the author of this collection quotes the Reverend Johnathan Boucher: 'Westmoreland is remarkably uniform in speech', yet in Cumberland they speak 'a leash of languages'.
'The Muse of cumberland'
The poetical works of Miss Susanna Blamire "the muse of Cumberland" (Edinburgh: John Menzies, 1842). Bridgewater 64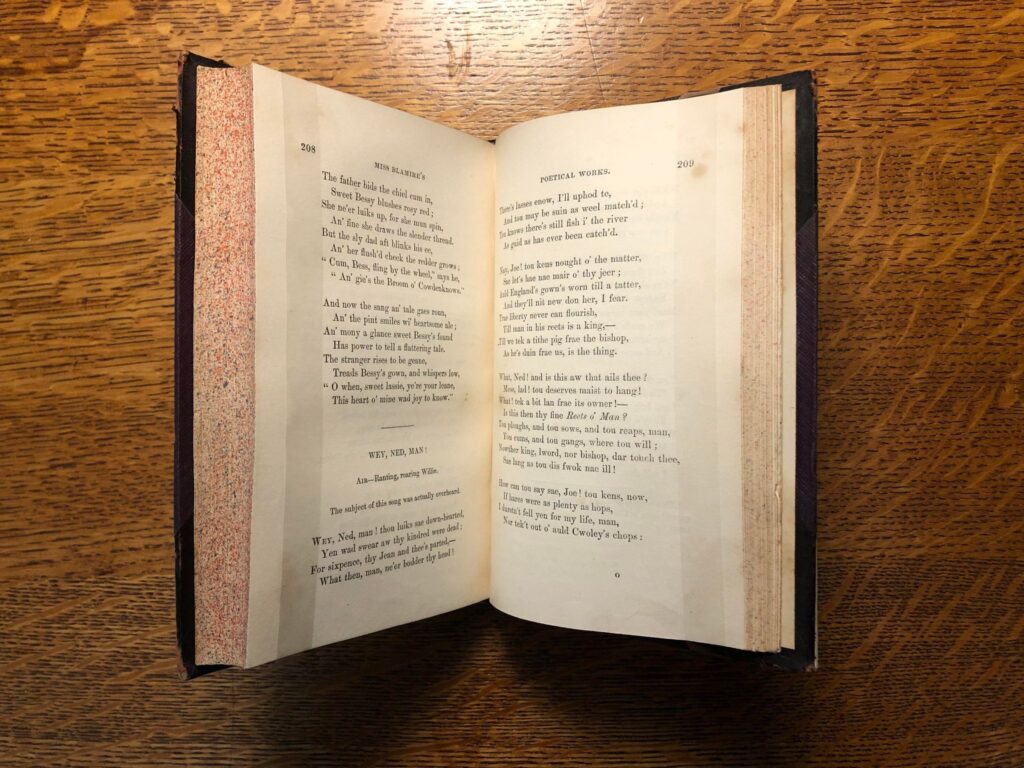 Susanna Blamire (1747 – 1794) was one of the most important female poets of the Romantic period who wrote much of her poetry in the Cumbrian and Scots dialects. Only a small amount of her work was published in her lifetime – instead, she would circulate her verses privately or else pin them to oak trees for the entertainment of passers-by. Her work is said to have anticipated Wordsworth and Coleridge, and may have influenced Byron's 'The Prisoner of Chillon'. The volume shown here, published in Edinburgh in 1842, was the first complete collection of Blamire's work. Perhaps most famously, her song 'The Siller Croun' is referenced by Charles Dickens in The Old Curiosity Shop.
"The language of the Northmen"
Thomas Ellwood, The Landnama Book of Iceland: as it illustrates the dialect, place names, folk lore, & antiquities of Cumberland, Westmorland, and North Lancashire (Kendal, 1894) PD2215 .EL (reserve)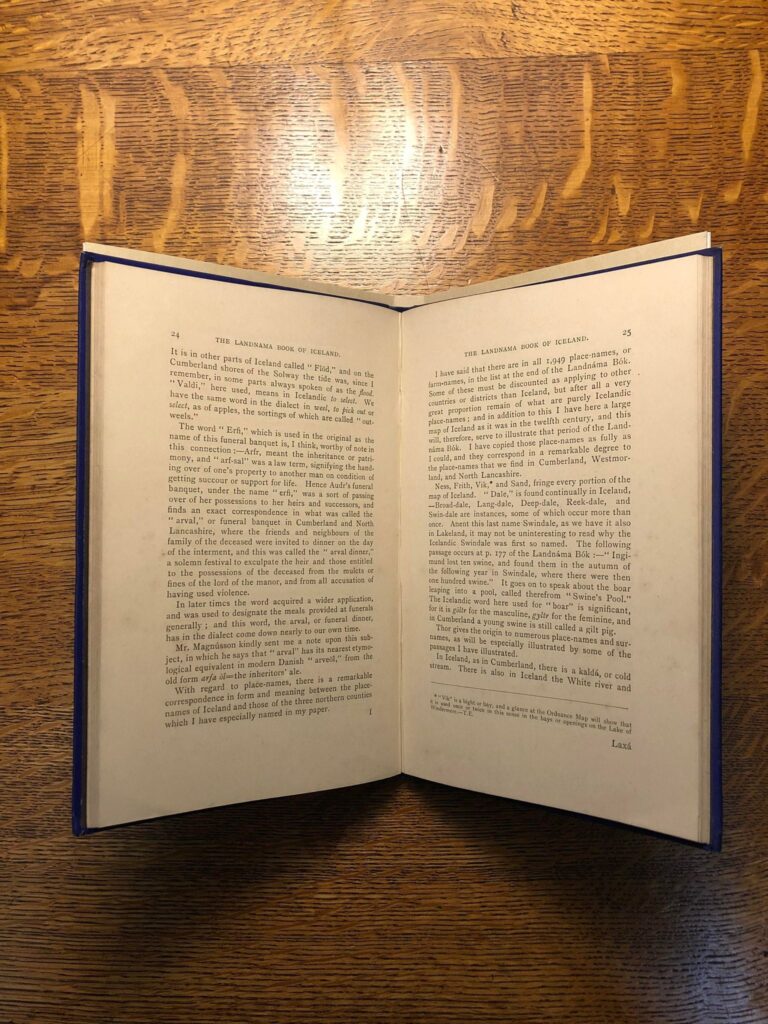 Shown here are pages from an 1894 study of Old Norse influence in Cumbrian dialect and place names by Thomas Ellwood, rector of Torver. 'The great bulk of the words are field names and farm names,' Ellwood writes, 'and all the domestic duties and concerns of everyday life'. Eld ('fire'), for example, appears in the Cumbrian and Scots word for fuel or firewood: 'elding'.A later chapter also notes the correlations between Icelandic and Cumbrian folklore, such as fairies, omens and seers – or wise folk.
Viking vocabulary
William Rollinson, A History of Cumberland and Westmorland (London: Phillimore, 1978) DA670 .C9 .RO (reserve)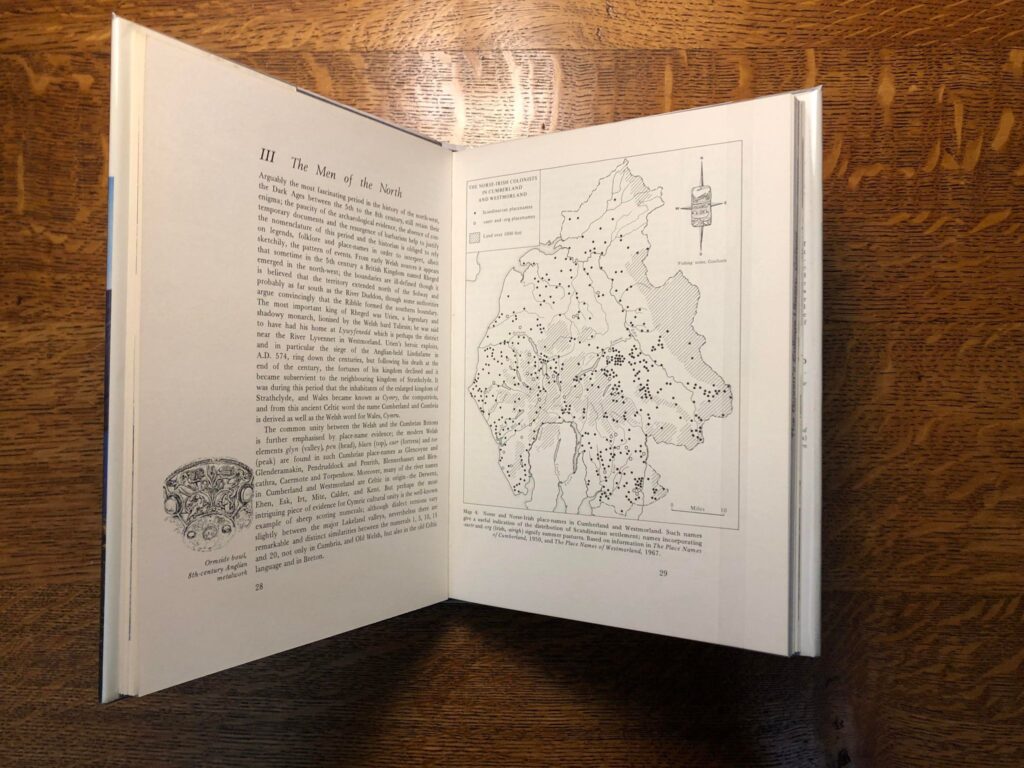 By the second half of the 9th century, Norse-Irishmen (second or third generation Scandinavians who had come over from Ireland and the Isle of Man) first settled in north-west England. The results of this fusion of Norse and Irish can be seen in the carved stone crosses in Cumbria, but also in the county's toponymy:
'The map of central Lakeland bristles with Norse names – tarn (tjorn), dale (dalr), fell (fjall), beck (bekkr), and waterfall (foss) are all names which can be readily identified on any modern map of Norway or Iceland, while that most Scandinavian of place-name elements, thwaite (thveit), meaning a clearing or enclosure in the woodland, is so common as to defy enumeration.'
The aim of this exhibition was to celebrate Dr. Bridgewater's donation of an important collection of books and manuscripts related to Cumberland and Westmorland
The selection of items that were displayed speaks of the College's long-standing interest in language and connections to the North West of England. Ranging from contemporary glossaries to examples of eighteenth and nineteenth-century dialect poetry by Susanna Blamire and John Stagg, it offers an introduction to the dialects and literature of the historic counties of what we now call the Lake District.
If you are interested in researching the Cumbrian collection, please contact the Librarian, Dr. Matthew Shaw in the first instance.