The Queen's Women's Network (QWN) launched on International Women's Day 2018 to celebrate the admission of women in 1979 and to create a lasting legacy for future Queenswomen.
The QWN is led by a community of Queen's alumnae, working with the support of the College. Today the Network provides professional and social networking opportunities for current and Old Members. It helps everyone, within and across the generations, to celebrate success, promote equality and inclusion and champions change.
Please join our network via our LinkedIn group. We look forward to your involvement in events, initiatives and exchanging insights.

To ensure our exciting programme of activities can continue to thrive in the years to come, the QWN is looking for alumnae volunteers to support in the following areas, with flexible opportunities to suit your availability:
organising QWN events

proposing a venue to host panel talks

writing about the network's activities in College communication

suggesting event speakers, or volunteering yourself

networking and giving advice to current students
If you would like to get involved, or can offer your help in any way, please contact : qwnetworkcontact@gmail.com
Queenswomen from all four decades joined with the College to create a series of events and initiatives throughout 2018-2020 that celebrated the admission of women in 1979 and created a lasting legacy for future Queenswomen.
In addition to today's thriving Network, there were three creative outcomes from the anniversary celebrations:
QWN events
The QWN hosts regular events both on-line and in-person, engaging in discussion on challenges and opportunities facing current and Old Members. All members of the Queen's Community are welcome to attend.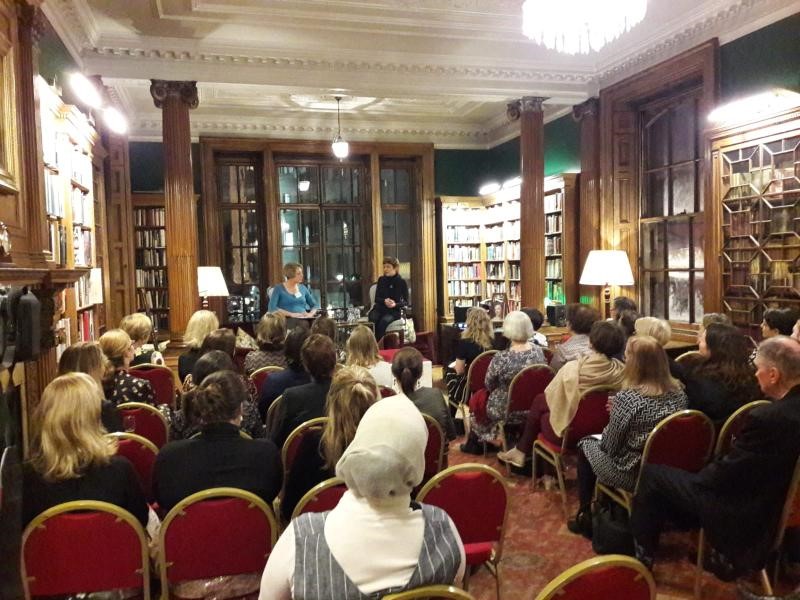 The Queen' Women's Network: "Going with the Flow"
The Queen's Women's Network: Women in Finance
In October 2021, the Queen's Women's Network held its first 'hybrid' event with a live audience in the Shulman Theatre in the College and live-streaming to Old Members around the world. Introduced by the Provost and co-hosted by Elizabeth Pilkington (Mathematics, 2000) and Jane Welsh (PPE, 1979) from the Queen's Women's Network, the panel comprised Rebecca Emerson (Economics, 1992) and Paula Binns (Modern History and Modern Languages, 1980).

After a quick overview of the breadth of the Finance industry and the state of diversity in it, the panellists shared their career histories and advice around how to get into the industry. We had lots of questions from both the live audience and from those listening online and from the discussions that continued over drinks afterwards.
The Queen's Women's Network: How volunteering can support career progression
What to do when a pandemic strikes and all face-to-face gatherings are banned? The women of the Network are a resilient group and worked around the issue to hold the planned event in a safe way. We had originally planned to hold this in London but the Covid pandemic and subsequent lock down meant that our plans had to change and we decided to meet instead on Zoom. This was the first online session held by the Network.

Many women in their working lives can struggle to get the skills and experiences they need to progress their careers. Experiences they are offered in the workplace can be high risk and subject to scrutiny by colleagues. However, there are opportunities to gain these skills in safe, supportive environments. Jane Macaulay and Alison Sanders (PPE, 1979) talked about their varied experiences volunteering for a number of organisations and reflected on how this developed a range of skills and knowledge that they were able to then go on to use in their life and careers.

Volunteering had not only enabled them to give something back to their local communities but also helped them to learn and practise new skills in a variety of settings supported by voluntary organisations.

Both Jane, who was Chair of the Surrey Magistrates Bench, and Alison, a relatively new magistrate, talked about their experiences in the law courts as a magistrate. Few people know that the role of magistrate is a voluntary one. As a member of the judiciary, magistrates receive significant training and support to fulfil their duties. Through this they can develop a wide range of transferrable skills; team work, communication and judgement. Jane and Alison also reflected on other voluntary roles they had undertaken which can support career development such as charity trustee, school governor, mentor and non-executive director. These roles can provide experience in managing finance and employment issues as well as developing chairing skills.

The key message from the session was that volunteering can provide an enormous benefit to society as well as to the individuals volunteering.

The session concluded with small breakout groups discussing which volunteering opportunities could support their career development and sharing their experiences of volunteering.

The session was facilitated by Janet Hayes (Modern Languages, 1981) and supported by the Old Members' Office.
The Provost In Conversation with the Queen's Women's Network – March 2020
In March 2020, the Queen's Women's Network held a dinner at the University Women's Club in London and hosted a conversation with the College's first female Provost, Dr Claire Craig, with questions submitted by the audience.
Other event reports